Handtevy Mobile for Hospitals
Now you can treat every critically ill or injured child and adult quickly, effectively, and with confidence.
Rapidly Access Lifesaving Information for High Acuity Patients
Treating the emergent pediatric and adult patients is difficult and time sensitive for even the most advanced healthcare providers. Handtevy Mobile gives clinical teams rapid access to lifesaving information proven to save lives and reduce errors.
Request a Demo
Improve Emergency Care Outcomes
Simplify complex medication and treatment administration with Handtevy Mobile's award-winning features at your fingertips. Dramatically improve time to treatment, accuracy, and outcomes for your patients.
Rapid Dosing in Volume
Handtevy Mobile puts your organization's formulary at your fingertips. Customized to align to your evidence-based algorithms, simply select the child's age or weight and Handtevy instantly displays the correct volume dose, equipment sizing and drip information.
Algorithms
Now your code team can easily access protocols without ever leaving the app. Algorithm-specific medications are displayed by etiology, organization-wide updates seamless, and the PDF is easily accessible.
Checklists
This new feature ensures that all critically important treatments are completed in real-time. Each checklist can be configured specifically to your organization's guidelines.
CPR Assist
CPR Assist supports high performance teams during cardiac arrests by providing CPR specific timers and audio-visual cues that can guide treatment and reassessment. CPR metrics immediately improve with this award-winning metronome
The Handtevy System
Handtevy is dedicated to advancing the quality of pediatric and adult emergency medical care. Our customized resuscitation strategies, tailored app configurations, and hands-on training are built to help your team deliver improved outcomes.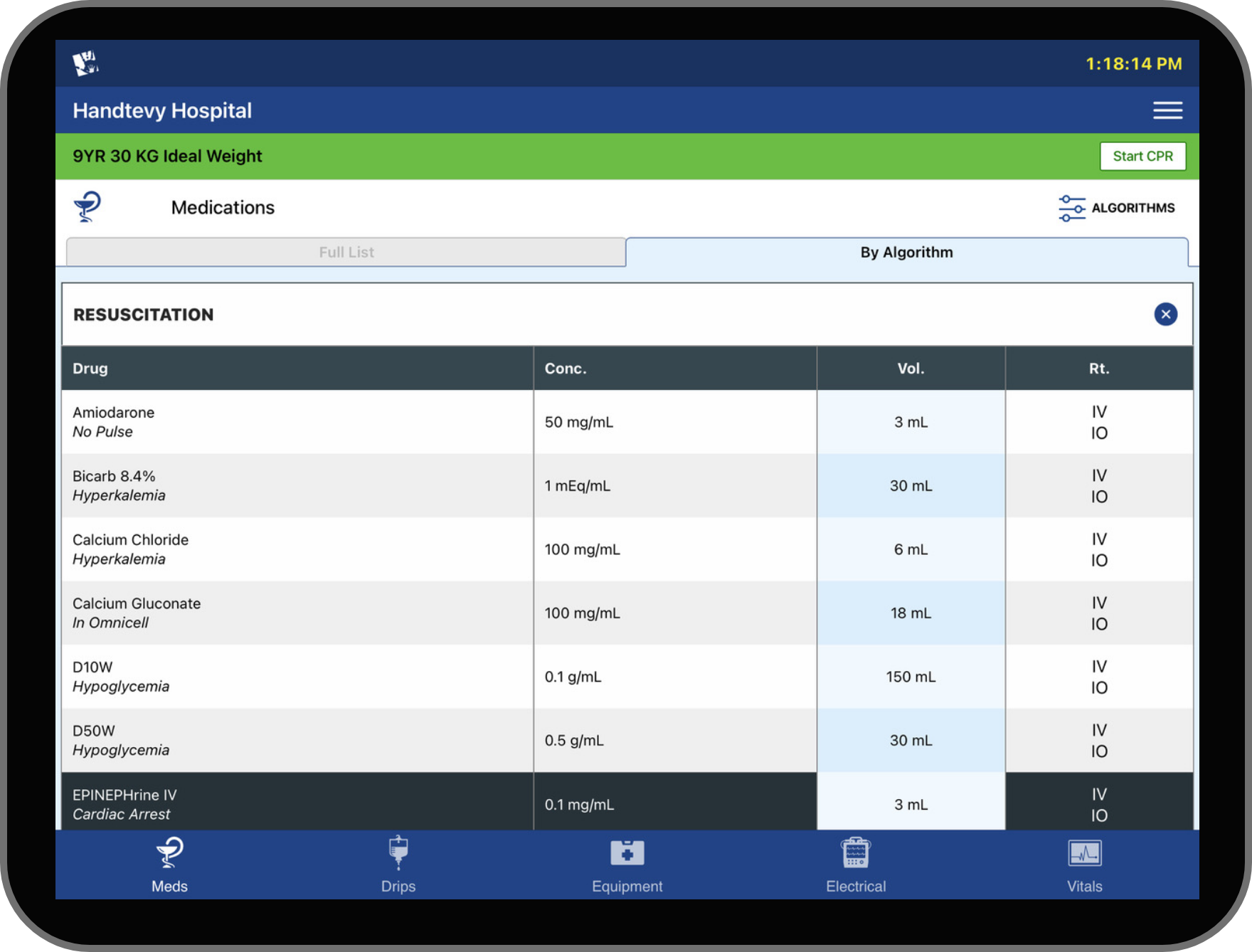 Hospital Customization
Handtevy Mobile is not just an app, it's a clinical tool built for customization around your hospital's needs. Work alongside Handtevy's medical professionals to make Handtevy Mobile work for you.
Products and Services
Once your Handtevy Mobile application has been customized, build your program as you see fit. Length-based tapes, hard copy medication guides, and more.
Tailored Implementation
Onboard Handtevy with specialized implementation tools designed for your organization.
Ongoing Support
Your Handtevy experience is always a top priority for our team and our mission-driven Handtevy Support Team is standing by to assist you.
Take the First Step with Handtevy Mobile
This isn't just an app, it's a revolution in emergency care. Discover the power of Handtevy Mobile with our personalized tour.
Request A Demo